THE C.I.P. – DAYDREAM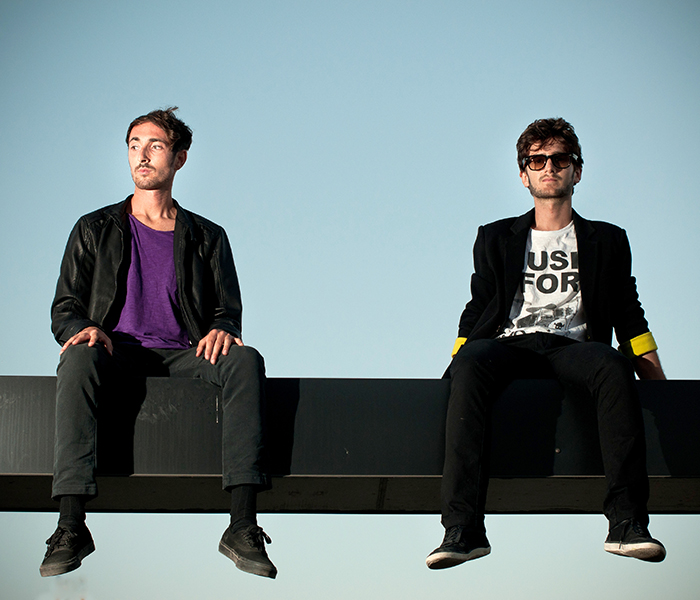 THE C.I.P. "DAYDREAM"
Format: CD / digital
Label: Volcan Records
Release Date: ** March, 5 2015
PR contact / contacto de prensa: bruno@freelastica.com
1st single "We'll Set The World On Fire" *AVAILABLE FOR FREE DL*
El 1er single "We'll Set The World On Fire", *DESCARGA GRATUITA*
The Orchard player:

FULL ALBUM PREVIEW / PRE-ESCUCHA TODO EL ÁLBUM

(English) PRESS RELEASE (PDF, Includes "Track-by-Track" comments)
(Español) NOTA DE PRENSA (PDF, incluye comentarios "Canción a canción") 
The C.I.P. are / son:
Michele Scheveger (lead vocals and additional synthesizer)
Simone Cavalli (synthesizer and samplers)
The C.I.P. is formed in Italy but active in Australia (Sydney) and Europe (Dublin) at the moment.
Tags: 80′s / synthesizers / pool parties / girls / hats / skinny jeans / Cadillac cars / tattoos / pizza / Nintendo…

Entering the album:
"Daydream" is the debut album of The C.I.P., a trip through 80′s / 90′s and contemporary electro pop vibes (Chvrches, M83, Purity Rings, Capital Cities, Empire of the Sun, etc). In a nutshell, when you hear the 10 tracks it's like having a real daydream because they include and embrace two different worlds (Australia & Italy, 80's and 00's).
The album has been produced and mixed by Antonio Filippelli (Volcan Records) and written by producers Michele Scheveger and Simone Cavalli with the supervision of Antonio. ** It was previously released on June 2014- just in Italy- where they've in heavy rotation with the single "We'll Set The World On Fire" at the MTV (by the way, the band won the Best New Generation Electro MTV Music Award) to the present day. The music-video was previously premiered on ROCKIT (Italy) and actually scored more than 50.000 views!
Rolling Stone (Italy) magazine also considered the duo as a "newcomer" to seriously take into consideration.
For these strong reasons now the guys and the label decided to make the great leap launching it now in a physical format (CD) and worldwide.
[Read more... "Track-by-Track]

Conozcamos el disco:
"Daydream" es el álbum con el que debutan The C.I.P. Un viaje a través de 10 canciones que nos retrae a décadas musicales como la de los 80 y los 90. A esta pasión se suman pop con efecto imán y matices electrónicos más actuales (Chvrches, M83, Purity Rings, Capital Cities, Empire of the Sun, etc). Una propuesta tan ensoñadora como real donde se abrazan dos mundos y culturas tan distantes como la italiana y la australiana.
El disco ha sido producido y mezclado por Antonio Filipelli (Volcan Records / Sony ATV). Los temas compuestos por los mismos Michele Scheveger y Simone Cavalli con la supervisión de Antonio. "Daydream" se lanzó prematuramente y únicamente en Italia (verano de 2014) debido a la inusual atención de medios tan importantes como la revista Rolling Stone y la MTV (ambos en su versión italiana) tras el estreno en exclusiva del vídeo-clip de "We'll Set The World On Fire" por la web musical ROCKIT. Este vídeo ya suma más de 50.000 visitas. A todo esto, estos chavales han ganado el nada despreciable "Best New Generation Electro MTV Music Award".
Razones de peso para que finalmente el jovencísimo dúo y la discográfica se hayan decidido a dar el gran salto re-lanzando y estrenando el CD a nivel mundial.
[Leer más... "Canción a Canción"]