Tigers of Wood

Fran Zaragoza – Tigers of Wood EP
[DEP031]
Release date / Fecha de lanzamiento: February-29th
Tracklist:
1 Fran Zaragoza – Tigers of Wood (Original Mix)
2 Easy Kid & Fran Zaragoza – Mindscape(Original Mix
3 Fran Zaragoza – Tigers Of Wood (Moliner Remix)
PR Contact bruno@freelastica.com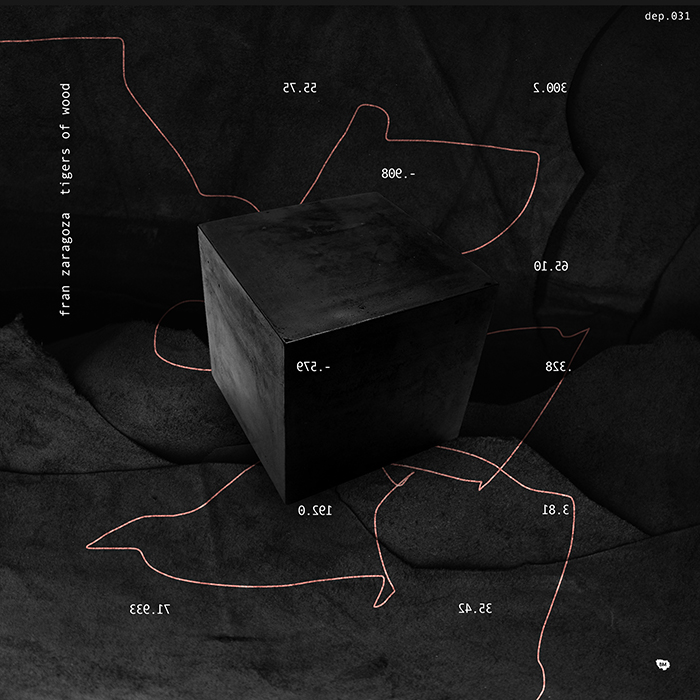 Fran Zaragoza is back to the corral, he does it in a very good shape, proposing two new original tracks where his captivating and melting House/Deep/Techno is omnipresent: "Tigers of Wood" and "Mindscape" (this latter along the duo Easy Kid).
"Tigers of Wood"
Fran takes us on a hypnotic trip, with an infectious, obscured groove looping over incessant layers of beat patterns that weave in and out of the track teasingly, driven along by a banging sub-boom-bass, with the sensuous vocals by Daniel Moncloa (BULTUR bassist and solo singer with that name).
"Mindscape"
Fran Zaragoza teams up with Easy Kid to bring to the table this ideal cut to keep us nodding. Intelligent step sequences of arpeggios and vicious synth lines. It's a glimmering combination of gentle analogue touches, brittle drums and slowly weaving pads.
"Tigers of Wood" (Moliner Remix)
This brand new EP from Depaart offers also one, wonderfully moody remix. Moliner captures a particularly audacious and dark mood, re-interpreting "Tigers of Wood". Crystalline notes over soft drum machines and spaced-out techno sound. The way he plays with vocals is so meticulous and emotional, an utterly beautiful game reduced to very crystalline dubbed phrases.
Miss this at your peril!

Fran Zaragoza regresa a la acción –si es que alguna vez se apartó de ella- con un nuevo lanzamiento donde se integran dos temas originales "Tigers of Wood" y "Mindscape" (este último junto al dúo Easy Kid) además de una remezcla a cargo de Moliner. Abran sus oídos y disfruten de una nueva andanada de Deep House, Techno… todo bien untado de sutileza, química y baile.
"Tigers of Wood"
Fran nos pone a planear a las primeras de cambio con este infeccioso e hipnótico tema de entramado oscuro pero de groove venenoso. Los patrones de ritmo ocupan elegantemente los espacios a la vez que se codean con capas un tanto atmosféricas, una línea de bajo ganadora y la sugerente voz de Daniel Moncloa (cantante y bajista de BULTUR).
"Mindscape"
Fran Zaragoza hace piña con Easy Kid para atraernos de nuevo como imanes a la pista de baile, esta vez con un planteamiento donde destacan la inteligente manera de usar los arpegios y unas líneas de 'subs' muy bien aclimatadas. Uno descarrila fácilmente y se deja llevar cosa fina… Se suman a la fiesta ligeros detalles analógicos,  ritmos quebradizos y pads que se van entretejiendo sin prisas.
 "Tigers of Wood" (Moliner Remix)
Este nuevo EP de la escudería Depaart viene –no podía ser menos- con bola extra. Un estupendo remix a cargo de Moliner. En él se despacha a gusto re-interpretando "Tigers of Wood" a base de audaces tonos de luz en su sonido. Sombríos o cristalinos según su humor que finalmente será el nuestro. Techno espaciado donde además de su disciplinada sesión rítmica destaca muchísimo su meticulosidad a la hora de muestrear y colocar los fragmentos vocales. Toca la patata de lo emocional que puede resultar.
Allá tú y tu conciencia si pasas de largo este genial trabajo.