CLAUDIA
Lydmor 二 Killing Time
(hfn-music)
www.hfn-music.com/music/si-claudia
______________________________
New Album 'I Told You I'd Tell Them Our Story' in September, 28th



ENG
Lydmor sets fire to the dance floor with her new single. On ' 四 Claudia' the electronic musician and songwriter opens the door into an edgy universe, where something dark and wrong lurks in the shadows of bodies and hotel rooms that suddenly transform into Parisian luxury suites with panthers wearing diamond leaches. Musically and lyrically you can submerge yourself in the many layers of the song.
'四 Claudia' is a tour-de-force in dynamics and efficient build-up. From soothing electronic details the drama soars towards thundering cascades of synths in the techno-infused climax. As the musical drama intensifies, the lyrics grow into a reciting poem, rich with metaphors, with Lydmor both describing the situation and at the same time tears the patriarchal ideal to shreds.
She explains: »The song is a female declaration of power against the patriarchate, symbolized in the line: "Behold, Money, I am woman!" Meaning: "I observe you and I don't want you, because I'm stronger than you". The lyrics are based on a poem detailing how a rich man manipulates a woman's life, but in the end she emerges victorious and on top. A feminist manifest for sure and a song about the horrible power tools grounded in sexuality, money, politics and submission. Based on personal experiences and presented as disguised art. If I revealed who Claudia truly really is, it would ruin the lives of certain people.«
ES
Lydmor prende fuego la pista de baile con su nuevo single. También de textos, serpientes y tramas rojas si nos ceñimos a lo visto en su vídeo. En "四 Claudia" la inquieta artista nórdica de música electrónica y pop nos abre las puertas de un universo que es como ella, travieso y agitado, uno donde lo oscuro acecha siempre, y que luego por arte de magia puede llegar a transformarse en suites parisinas de lujo con panteras llevando diamantes. Si, así reza la nota original de prensa; igual que tú nos hemos quedado todos. El caso es que la propuesta musical y lírica de Lydmor, nos logra sumergir en muchos mantos de sensaciones. Eso sucede en esta nueva canción.
'四 Claudia' es un caballo ganador que destaca por su dinamismo –eso que el tempo no es para nada un desenfreno- y su eficaz construcción. Van de la mano desde detalles electrónicos con efecto analgésico, a todo lo contrario, puro drama gracias a las enormes cascadas de sintetizadores. En el clímax de la canción hasta se divisa unas pinceladas de techno. A medida que ese drama sonoro se intensifica, la letra se convierte en un poema rico en metáforas con Lydmor describiendo la situación y al mismo tiempo haciendo trizas el ideal de una sociedad patriarcal.
Lydmor nos confiesa "Esta canción es una declaración feminista en contra del poder del patriarcado simbolizado en la línea 'Behold, Money, I Am A Woman', lo cual quiere decir que ya lo observé y que no lo quiero porque soy mucho más fuerte que el sexismo".
Este 3er single extraído de su nuevo LP –a publicarse a finales de septiembre- relata la historia de cómo un hombre rico manipula la vida de una mujer que al final logra emerger hasta alzarse victoriosa. Es un manifiesto sobre el horrible poder de la sexualidad, el dinero, la política y la sumisión basada en experiencias personales. "Si revelara quién es realmente Claudia, arruinaría las vidas de ciertas personas" comenta de nuevo la polifacética artista danesa.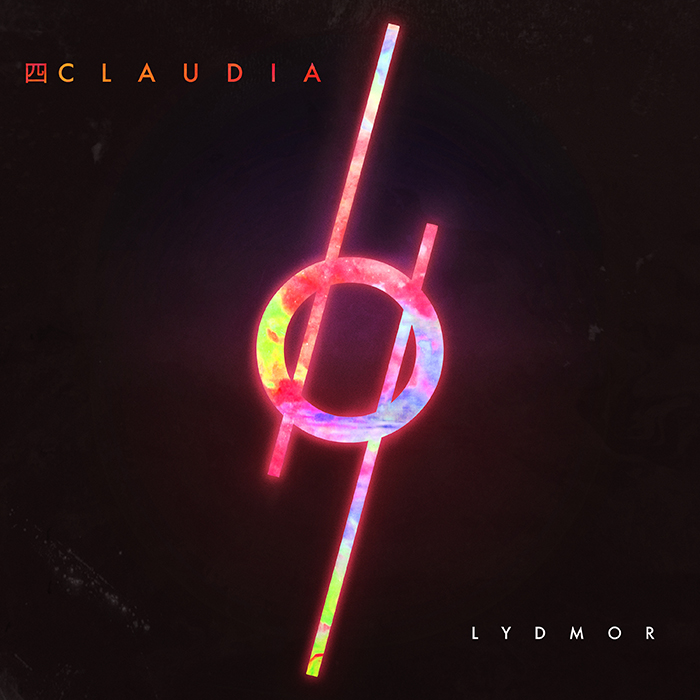 ENG
Lydmor is Copenhagen based Jenny Rossander, an electronic producer, composer, singer, writer and general troublemaker. Now she's about to release her new solo album "I Told You I'd Tell Them Our Story", a multi-layered piece of modern electronic pop music for which she found inspiration by living in Shanghai for several months in 2016.
The single "Money Towers" provides a first glimpse into the concept of the new album "I Told You I'd Tell Them Our Story". The song stretches from club vibes to reflective introspection; melodically captivating synth-stabs, exotic drum programming and Lydmor's descriptive lyrics presented with her strong voice capture the song's ambiguous nature. "Money Towers" is about being seduced by a world while knowing that this isn't good for you: "In the song I describe the feeling of roaming about in Shanghai and observing (and to some degree being blinded by) the material wealth symbolized in the imposing skyscrapers.", Lydmor says about the new single.
"The song also has a more sinister tone, considering that it deals with meeting new people while you're in a state of disillusion. You're worried that you might not notice or even remember the people you meet. It is quite personal and revealing. For instance in the second verse I describe an anxiety attack where I hyperventilate. However I don't act on these alarming signals but instead I just venture further into the night and the city. No matter the consequences and not being able to stop: So lost in the city/I hear a car crash for every step we take."
ES
Lydmor es Jenny Rossander, una artista todo-terreno danesa que se defiende a las mil maravillas escribiendo, componiendo e interpretando pop electrónico. Ha trabajado, montado dúo y editado junto a uno de los miembros de WhoMadeWho (Bon Homme, es decir, Tomas Høffding). También se confiesa una alborotadora nata. Pues bien, nuestra agitadora con base en Copenhague acaba de iniciar la caminata hacia su nuevo álbum en solitario: "I Told You I'd Tell Them Our Story". Una historia en formato largo compuesta de varias capas de música pop y como no, de electrónica contemporánea.  Para moldear este nuevo trabajo que verá la luz ya avanzado este 2018, se asentó durante varios meses –en 2016- en la lejana Shanghái para embeberse de ella y capturar inspiración.
El primer single en ver la luz es "Money Towers". Este avance pinta ser un buen reflejo del aspecto que tendrá el nuevo álbum.  En él se alternan giros bailables muy actuales con trazos más introspectivos. Melodías sintéticas de las que enganchan (el estribillo es como un chicle que va directo al cerebro) y bases rítmicas exóticas a la vez que muy actuales. La misma Lydmor nos advierte que se trata de una canción con doble cara. Doble naturaleza. "Money Towers" te avisa de como un determinado ambiente, mundo, te puede seducir y al mismo tiempo sientes que no te conviene: "la canción describe mis sensaciones al deambular por Shanghái y observar, cegada en cierta medida, por toda aquella riqueza material personificada en imponentes rascacielos."
"La canción también tiene un tono más siniestro, considerando que va sobre conocer gente en un estado de desilusión. Te preocupa no advertir e incluso no recordar a las personas que vas conociendo. Es algo bastante personal y revelador. Por ejemplo, en el segundo verso de la letra describo un ataque de ansiedad en el que hiperventilo. Sin embargo, no actúo sobre estas señales alarmantes, sino que me limito a adentrarme más en la noche y en la ciudad. No importa cuáles serán las consecuencias de seguir adelante: Tan perdida en la ciudad / Escucho como un chocazo de coche por cada paso que damos".


Photo credit: Neal McQueen 
Crédito de las fotos: Neal McQueen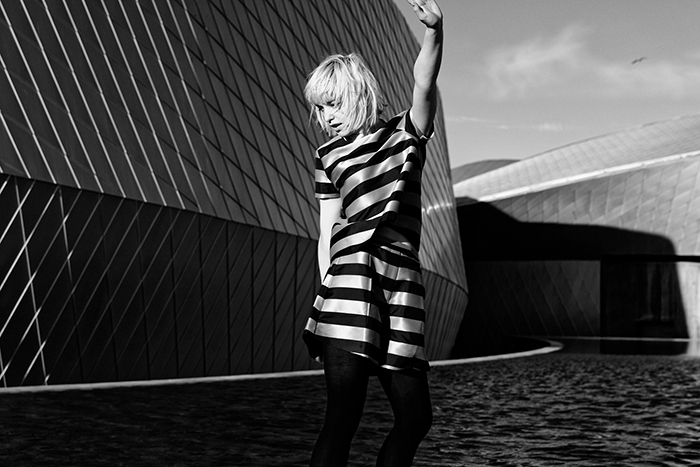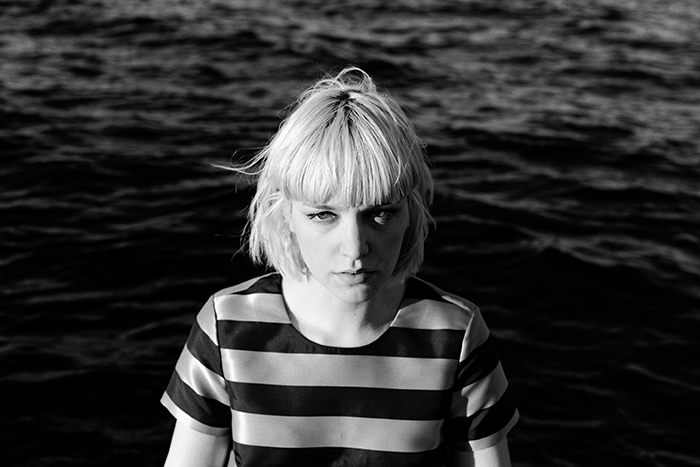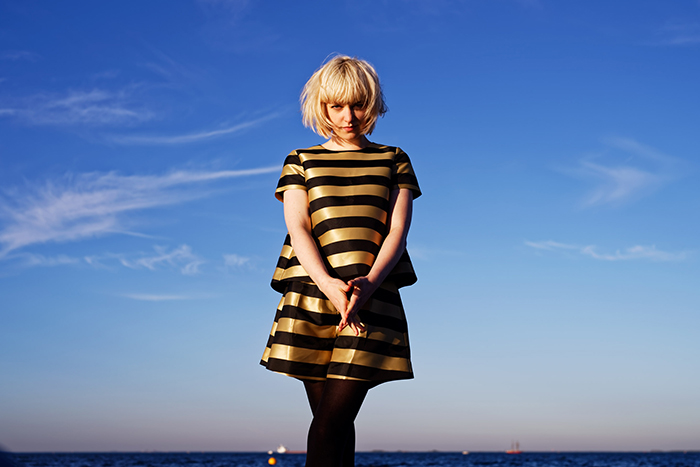 lydmor
www.facebook.com/lydmor
www.instagram.com/Jennylydmor
https://twitter.com/jennylydmor
hfn-music
www.hfn-music.com
www.facebook.com/hfnmusic
www.youtube.com/user/hfnmusicTV
www.twitter.com/hfn_music
www.instagram.com/hfn_music

PRENSA / PRESS
España / Latinoamérica / Italia / France …
bruno@freelastica.com
hfn music
publicrelations@hfn-music.com
MANAGEMENT:
Heartbeat Management
www.heartbeatmanagement.dk
Thomas Bredahl: thomas@heartbeatmanagement.dk
Stefan Facius: stefan@heartbeatmanagement.dk
Booking (worldwide excluding North America)
Phyllis Belezos @ ITB
phyllis@itb.co.uk