POWERSOLO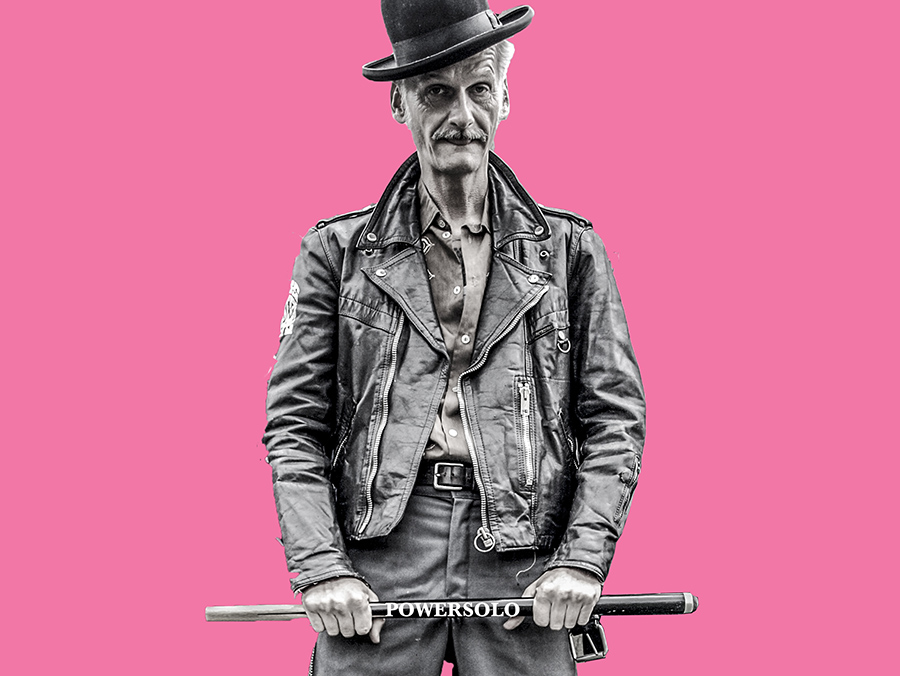 #new #video #scandinavia #horrormovies
#psychedelia #garagepunk #countryrock
POWERSOLO (Denmark / Dinamarca)
New Music Video – LONELY GAL
Nuevo vídeo-clip – LONELY GAL
ENG
It's HIM. Kim Kix! The Toréador of Trash. It's PowerSolo. The rock'n'roll band that you hate to hate and your galfriend just loves to love.
Now he's back with a brand-new video – a mock-horror in the style of oldie – a vintage Gothic, Ed Wood-esque tale of chauvinistic karma. Filmed and directed by legend Peder Pedersen (who made the famous Barbie Girl-video for Aqua, as well as several videos for PowerSolo's label CRUNCHY FROG).
"Lonely Gal" is from the album, "BO-PEEP", which was conceived, written and partially recorded during an extended weekend of solitary recluse at the Waikiki of Denmark. One man. One guitar. One kick drum. One microphone. Two bottles of absinthe.
* Listen to the whole atomic-album here / Spotify. 
* Smart URL https://orcd.co/bo-peep
Once back in the big, bad, Jutlandian metropolis of Aarhus, Kix added more guitars, drums, organs and his old secret weapon: The tripple bass. He even met up with his Railthin Brother Bo, who laid down a few dope beats on a couple of songs for Christ… and old times' sake. Mixing was achieved through the divine intervention of Mr. Nik Heyman, and a final layer of dirt was shoveled into the woodchipper by Emil Thomsen at ET Mastering. 17 songs in total. The ones too strong for unlimited release were chosen to comprise the 7-inch 45rpm wonder that is PEEK-A-BO. Released in 500 copies on Record Store Day 2018.
ESP 
Sí, es él ¡Kim Fix! Es PowerSolo. La banda de garage-punk, psicodelia y hasta rock and roll que te costará odiar y a tu pareja (sobre todo si está mal de la azotea) le fascinará.
Ahora él, ellos, lo que tú quieras, regresan con un nuevo vídeo-clip que es todo un simulacro de película de terror, ok, de esas antiguas en blanco y negro con un presupuesto y actores pésimos. Un poco de rollo gótico por aquí, otra pizca de Ed Wood por allá, alguna sorpresa zombi y voilà.
El vídeo está encima dirigido por Peder Pedersen (famoso por realizar aquel zambombazo que fue el "Barbie Girl" de Aqua, así como culpable de muchos otros vídeos para la discográfica que dirige PowerSolo: CRUNCHY FROG).
"Lonely Gal" es una canción que se extrae del álbum "BO-PEEP" el cual fue concebido, compuesto y parcialmente grabado durante un fin de semana eterno de reclusión en la Waikiki de Dinamarca. Un hombre, una guitarra, un bombo, un micrófono. Y dos botellas de absenta.
* Escucha el álbum al completo aquí / Spotify.
* Smart URL https://orcd.co/bo-peep
Una vez de regreso en la enorme y chunga metrópolis Jutlandiana de Aarhus, Kix comenzó a meter más guitarras, golpes de batería, órganos e incluso su arma secreta (ya no tan secreta): el triple bajo. Incluso se fichó a Railthin Brother Bo quien, como en los viejos tiempos, aportó un par de ritmacos. El álbum se mezcló gracias a la intervención divina de Mr. Nik Heyman. El remate final de las 17 canciones que componen el LP es obra de Emil Thomsen – ET Mastering. El disco por cierto fue publicado también durante el
de 2018 en una edición limitada de 500 copias (7" a 45 RPM).

The Power of Solo
ENG
In 2018 The Atomic Child AKA Bo, who, for so many many years, rode alongside Brother Kix on a horse called Mule and defeated audiences across the Globus with his mighty axe, decided to take a load off and lay his barking dawgs to rest by the fire place at Casa Railthin. Enjoying his PowerOtium looking at all the platinum records, Grannies and other prestigious awards and sparkling trophies from two decades of confrontational bad-assery on stage and record both, Brother Bo deserves nothing but our utmost respect and praise for his lifelong dedication to rock'n'roll and beyond.
But the PowerSolo forges on. A juggernaut through the big, black narcotic night, Kim Kix and his merry band is once again setting sail towards the clubs, festivals, dives, concert halls, your mother's house, bars, ball rooms and other entertainment establishments. And this year they're armed with kick-face material taken from the new PowerSolo ulimited edition long player album BO-PEEP, also available for the first time in the US by Dirty Water Records USA on a limited edition 12″ green vinyl. Right here: https://www.dirtywaterrecordsusa.com/powersolo
So much for the sound. The beautiful artwork was done by Martin Wild of The Courettes – a fine band for whom Kim Kix has produced 2 records. The colours are bold and the designs even bolder. The final result defies description. But we'll try: This is a fine record. Damn fine. It's what the doctor ordered. It's what your Father warned you against. It is highly toxic but strangely addictive. It is BO-PEEP. 12 inches of pure indiluted PowerSolo. Can you dig it?
Some more:
The band experienced a viral craze with their insane video to the song "Boom Babba Do Ba Dabba" (from the album The Real Sound), which went bananas on Facebook with more than 3 million views and almost 50.000 shares.

MONDOSONORO  [ link ]
España  

ROCKERILLA [ link ]
Italia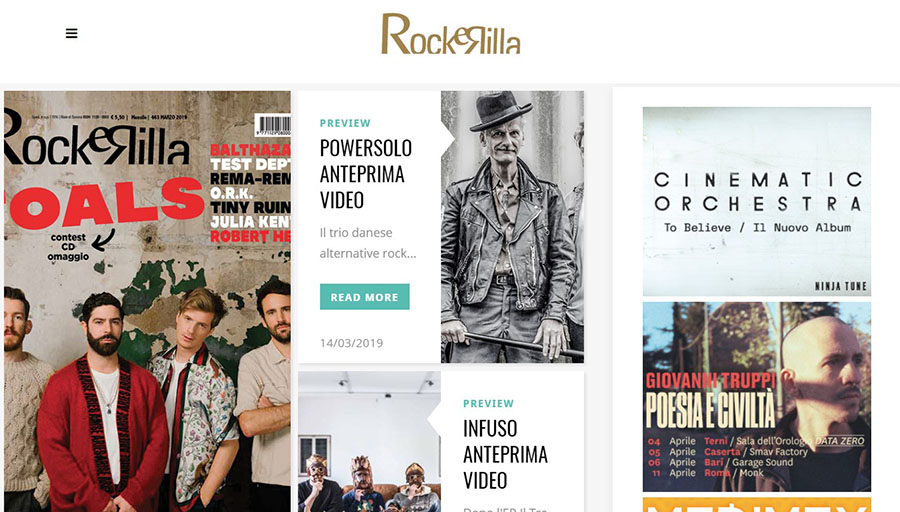 WARP LA [ link ]
Latam & USA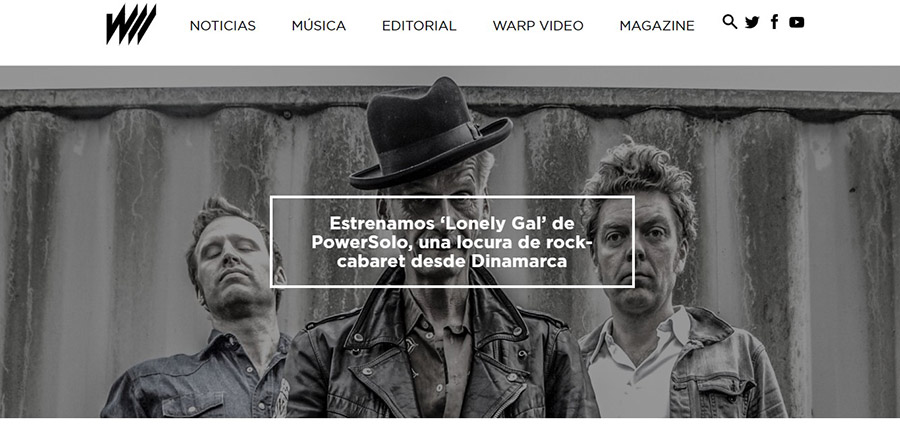 INDIEPOPROCK [ link ]
France & Belgique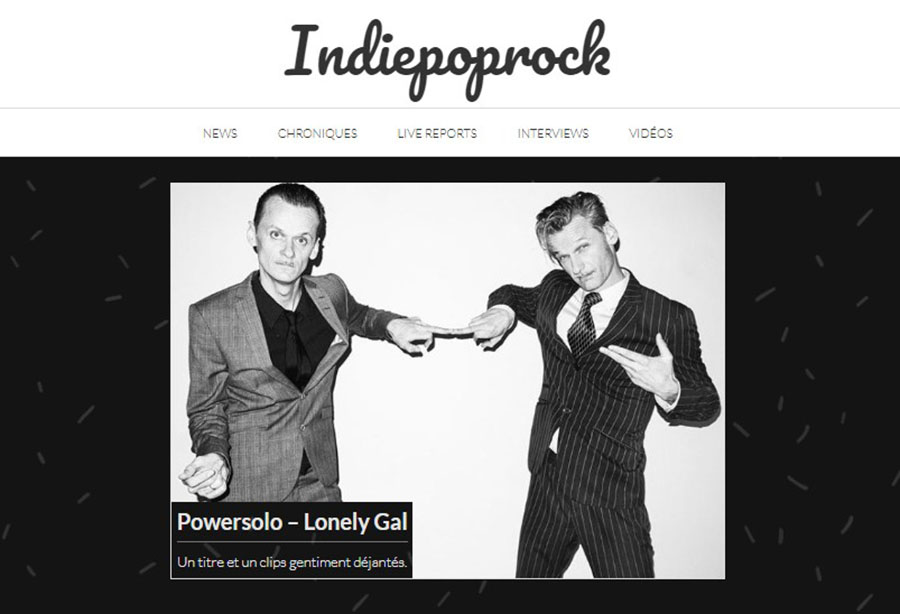 TOUR DATES
22 Feb 2019 Funhouse Seattle – Seattle, WA
24 Feb 2019 The White Eagle – Portland, OR
25 Feb 2019 Johnny B's – Medford, OR
26 Feb 2019 The Dip – Redding, CA
27 Feb 2019 SheasTavern Reno – Reno, NV
28 Feb 2019 Old Ironsides – Sacramento, CA
1 Mar 2019 DNA Lounge – San Francisco, CA
2 Mar 2019 The Redwood Bar – Los Angeles, CA
3 Mar 2019 Alex's Bar – Long Beach, CA
5 Mar 2019 The Slidebar Rock N Roll Kitchen – Fullerton, CA
6 Mar 2019 The Tower Bar – San Diego, CA
7 Mar 2019 The Bunkhouse Saloon – Las Vegas, NV
8 Mar 2019 Yucca Tap Room – Tempe, AZ
9 Mar 2019 TBA – Albuquerque
10 Mar 2019 Downtown Social LBK – Lubbock, TX
12 Mar 2019 Main at South Side – Fort Worth, TX
13 Mar 2019 The Bang Bang Bar – San Antonio, TX
14-17 Mar 2019 SXSW – Austin, TX

FACEBOOK (PowerSolo)
SPOTIFY (PowerSolo)
INSTAGRAM (PowerSolo)
WEB (PowerSolo)

PRENSA / PRESS
bruno@freelastica.com
.
BOOKING
(USA/CAN) ATOMIC MUSIC GROUP
justin@atomicmusicgroup.com 
(EU) 3C TOUR
pierre.giraud@3ctour.com 
(SCANDINAVIA) GEARBOX AGENCY
anderz@gearbox.dk