KILL THE HIPSTERS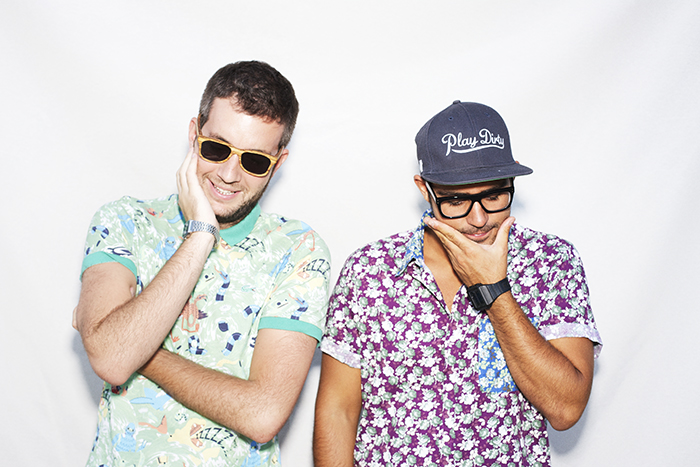 (Photo credit / fotos de:  Alberto van Stokkum)


Behind this quite controversial and fun at the same time stage name, you will find a very young Madrid based duo, synonymous with pure eclecticism. Producers and DJ´s without borders (neither physical nor musical), whose spectrum of sound is limitless. From nu-disco and fancy house to more adventurous and explosive sounds like EDM, Trap, Moombahton, playing with electro-rock as well as beats considered to be more mainstream.
Their recording studio skills are about to be exposed with the highly anticipated "Como Back to Me" (featuring BEAROID). A fascinating vocal clubbing pop song to be released on September, 23rd in an EP completed with banging remixes by Moliner, Rubik Dude and Taak. The icing for this 2014 will be the official music video for the original track directed by Mauri D. Galiano.
The duo shares their abilities showing off on stages throughout the world. In the last four years you could find them on Dcode, SOS 4.8 Arenal Sound, 101 Sun Fest, Sonorama or Pop UP. They also played in Mexico, Holland, Germany and in majority of the best Spanish clubs. With the motto "vale-tudo" wherever they go and with a clearly defined role to play: to make us enjoy, bounce and sweat!
With KILL THE HIPSTERS it is absolutely forbidden to be bored. The duo lands with quite an impact, promising and absolutely ready to rein the new worldwide indie and dance scene. Save their name in your head, and remember "KTH & Spain are always different".
Further details:
KILL THE HIPSTERS have shared the stage with artists like Crookers, Dada Life, Mylo, A-trak, Steve Aoki, Aeroplane, Breakbot, The Magician, Alex Metric, T.E.E.D., etc. On top of that, they add up to their resume two VMA nominations (most valued Spanish Electronic Music award), for the recent release of their own music label Agitprop, since September 2012 a weekly radio show on Vicious (Radio FM and online) and a long experience in concerts and DJ session promotions bringing up to the audience the most relevant of the international electronic, indie and dance scene.

Tras ese nombre artístico tan 'controdivertido' se encuentra un jovencísimo dúo madrileño sinónimo de puro eclecticismo. Productores y DJ's sin fronteras -ni físicas ni estilísticas- cuyo abanico de sonidos es ilimitado. Desde el nu-disco y el house más selecto hasta estilos más gamberros y eléctricos como la EDM, el Trap, el Moombahton… llegando incluso a juguetear con el electro-rock o los sonidos más mainstream.
Máxima atención con el nuevo y por otro lado, esperadísimo trabajo con el que pretenden poner la guinda a este 2014: "Come Back to Me"(featuring BEAROID), una canción de pop pegadizo y electrónica agitada, avance de lo que será un 2015 increíble. Este "himno de pista" será editado en formato EP el próximo 23 de septiembre. Incluirá además las remezclas de Moliner, Rubik Dude y Taak. Semanas después se prevé el lanzamiento del vídeo-clip oficial de dicho tema (la dirección correrá a cargo de Mauri D. Galiano).
Mientras esto sucede siguen demostrando sus habilidades por las cabinas de medio mundo. Su trayectoria en estos últimos 4 años les ha permitido actuar en festivales de primer nivel como Dcode, SOS 4.8, Arenal Sound, 101 Sun Fest, Sonorama o Pop Up. También girar por México, Holanda, Alemania y la mayoría de los mejores clubes de España. Enarbolando siempre ese particular "vale-tudo" como lema y con una misión muy definida: la de hacernos disfrutar, botar y sudar.
Con KILL THE HIPSTERS queda terminantemente prohibido el aburrimiento. Con contundencia aterriza esta prometedora pareja, totalmente listos para tomar las riendas de un 'género plagado de subgéneros'. Y recuérdalo… "KTH & Spain are always different".
Más detalles:
KILL THE HIPSTERS han compartido cabina con artistas como Crookers, Dada Life, Mylo, A-trak, Steve Aoki, Aeroplane, Breakbot, The Magician, Alex Metric, T.E.E.D etc. Por si fuera poco, completan su currículum con dos nominaciones a los premios de música electrónica VMA, el reciente lanzamiento de su propia discográfica Agitprop, un programa semanal desde septiembre de 2012 en Vicious Radio (radio Fm y online de música electrónica) y un largo historial como promotores de conciertos y sesiones de algunos de los artistas más relevantes de la escena alternativa internacional.
LINKS:
facebook.com/killthehipsters
twitter.com/killthehipsters

soundcloud.com/killthehipsters
youtube.com/user/killthehipstersKTH