Chapter One
EDU IMBERNON & NICO CASAL – CHAPTER ONE  (FAYER)
2-tracker EP
Release date: July 20th  / Fecha de lanzamiento: 20 de julio
1st episode where house and techno talent Edu Imbernon teams up with pianist and Oscar-winning composer Nico Casal, to bring us 'Chapter One'  |   

Edu Imbernon

 regresa este verano con ​nuevo lanzamiento en su sello Fayer, un primer episodio donde se asocia con 

Nico Casal

 (compositor gallego que vive actualmente a caballo entre Madrid y Londres; Nico compuso la música del corto "Stutterer", de Benjamin Cleary / Serena Armitage, que resultó precisamente ganador del Oscar en esa categoría en 2016: "Mejor Cortometraje de Ficción")
PRESS CONTACT | CONTACTO DE PRENSA
Bruno Garca: bruno@freelastica.com

Edu Imbernon Feat. Nico Casal – Chapter One (Original Mix)
Edu Imbernon Feat. Nico Casal – Levitate (Original Mix)

ENG
[ Info Release ]
Spanish label head Edu Imbernon returns to his imprint, Fayer, and teams up with composer of OSCAR winning film and pianist Nico Casal (Irish short film "Stutterer" in 2016)​, to bring you 'Chapter One', a truly atmospheric two-tracker EP that seamlessly blends its distinct progressive and melodic sound with Casal's orchestral influences.
Luxurious melodies open up 'Chapter One', twisting and multiplying against a range of warm chordal sequences, until an elusive breakdown pulsates into an impressive piano display, reverberating and warbling until unleashing a truly euphoric drop.
Delicate synth grooves and pulsating house sequences kick 'levitate' off, slowly introducing an array of high end piano chords with a driving set of echoing synth lines. Once again, Casal takes the track way, orchestrating a powerful piano solo that builds in tension and forms into what is another truly eclectic piece.
This is only the first step of a promising musical teamwork…
ES
[ Info del lanzamiento ]
Edu Imbernon, mandamás de la discográfica Fayer, regresa a su santa casa. Lo hace de una manera muy especial, nada más y nada menos que asociándose con el compositor y pianista gallego (aunque afincado entre Londres, pero sobretodo Madrid) Nico Casal, ganador en 2016 de un OSCAR gracias al cortometraje irlandés "Stutterer".
"Chapter One", así se titula este nuevo EP que consta de dos cortes originales. En ambos se combinan con sumo acierto atmósferas, melodías orgánicas (Nico deja notar su peso con influencias orquestales) y sonidos más avanzados.
Esas melodías toman un cariz verdaderamente apasionante en "Chapter One", en este sencillo se multiplican, retuercen, y entremezclan con acordes cálidos. Así las tendremos retozando durante el tema hasta que todo se colapsa y hace acto de presencia un señor piano. Tras unos cómodos segundos de escucha clásica, la canción retoma vuelo. Nos elevamos y da lo mismo si vamos con paracaídas o no. Disfrutamos de la euforia.
En el otro rincón del cajón, "Levitate", un corte de house donde las secuencias y sintetizadores se mantienen palpitantes de principio a fin. Bueno, con permiso del nuevo colchón que se nos pone delante donde disfrutar de nuevo de unas buenas notas de piano clásico. Los acordes de Nico Casal son, una vez más, maravillosos. Pasionales a la vez que tensos. Esta prometedora simbiosis musical no ha hecho más que dar sus dos primeros frutos…

EDU IMBERNON
[ link - Biog + Tour dates + etc. ]
NICO CASAL  
[ link - Biog + Music + Films + etc. ]



NICO CASAL

DANCING ASTRONAUT
"CHAPTER ONE"  [ link ]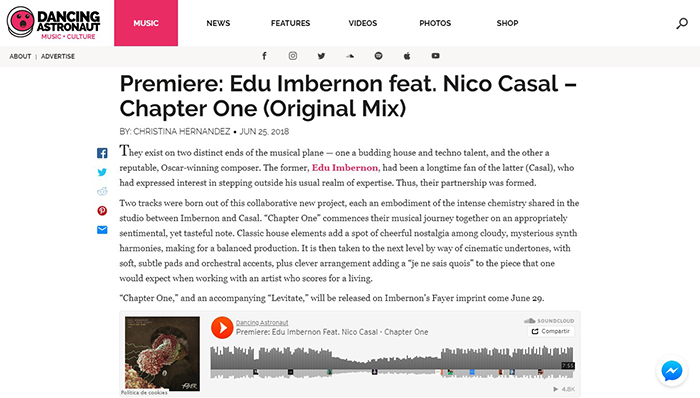 DEEP HOUSE AMSTERDAM – DEEP HOUSE LONDON
"LEVITATE"  [ link ]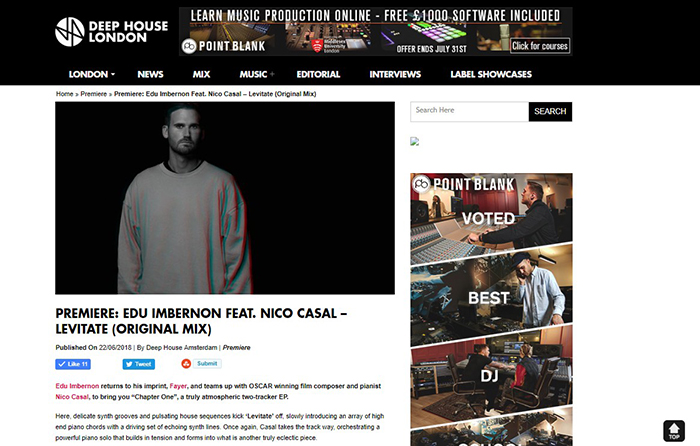 imbernonmusic.com
facebook.com/imbernonmusic 
soundcloud.com/imbernonmusic
twitter.com/EduImbernon 


Prensa: bruno@freelastica.com
Worldwide Management:
murray@fayermusic.com
Booking:
Worldwide Bookings:
jan@plantage13.com – betty@plantage13.com

Spain & Portugal, South America Bookings:
fran@b4bookings.com