BeatLove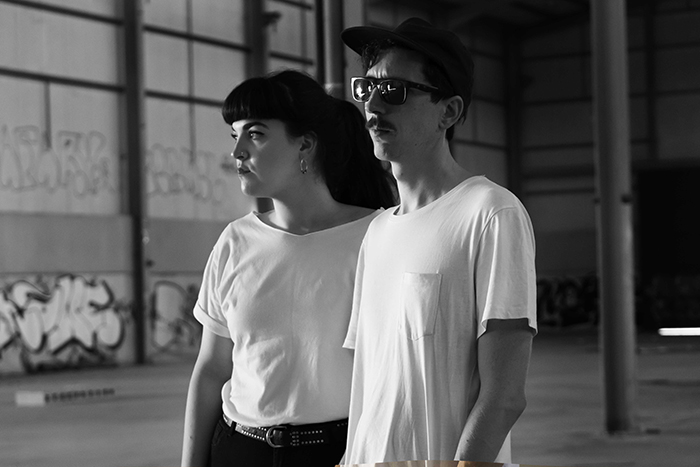 - Ya disponible el EP  "Gorilla" (Beautiful Accident, 2018)
* Spotify *
- 1er single & vídeo-clip "Train"

1. Gorilla
2. Train
3. Forest
4. Connection Bridges


ENG
Who knows what would happen to BeatLove if 2018 still had a few more months left. The final stretch of the year that the young Sevillian duo is living is just idyllic.
If a few weeks ago they won the Villa de Bilbao bands competition (Urban category), a few days later they merged music, art, history and architecture in a dream space like the Archaeological Ensemble of Madinat Al-Zahra (Córdoba, Spain), now they have just released "Gorilla".
"Gorilla" consists of four original songs -including "Train", music video below- and has been published by Beautiful Accident (Fernando Lagreca's label, also responsible for the last releases of Lasers, Litorate or Galera). Benjamín Jiménez and Myriam Fernández dropped us as they had never done before a lesson designing beats blend with emotive triphop/pop vocals with passionate mewling synthetic and organic sounds. Urban and vaporous house in the mood of Four Tet, Bonobo, perhaps James AV or Stillhead.
Don't stop judging yourself… All you need is BeatLove!
ES
A saber qué pasaría con BeatLove si al 2018 aún le quedasen otros seis meses más. Menudo tramo final de año el que está viviendo la joven pareja sevillana. Delicioso, y real.
Si hace unas pocas semanas ganaron el Villa de Bilbao (categoría Urban), luego fusionaron música, arte, historia y arquitectura en un espacio de ensueño como el Conjunto Arqueológico Madinat al-Zahra (Córdoba) ahora acaban de hacer realidad un nuevo lanzamiento discográfico: "Gorilla".
"Gorilla" consta de cuatro canciones originales –entre ellas el single "Train", vídeo-clip un poco más abajo- y acaba de ser lanzado por Beautiful  Accident (sello de Fernando Lagreca, causante también de los últimos discos de Lasers, Litorate o Galera). Benjamín Jiménez y Myriam Fernández nos sumergen como nunca lo habían hecho antes en esa pasión tan sincera que sienten por el intimismo melódico a medio camino entre el pop y el triphop. Los envoltorios  vaporosos y el beat emparentado esta vez con el credo de Four Tet o Bonobo, así como las texturas sintéticas limpias y dub de James AV o Stillhead.
Lo mejor es que siempre los juzgues tú mismo… All you need is BeatLove!

BEATLOVE GORILLA EP (Beautiful Accident)
ENG
BeatLove is an electronic music duo from Seville, formed by Benjamin Jimenez and Myriam Fernandez, whose name, as the word suggests and as they themselves define it, originates from an explosion of love and rhythm, creating music that's personal and with character to submerge listeners into a deep voyage of intimate melodies, enveloping textures and exciting voices.
On their previous work ('Save' – Solid Tapes) they presented us with a sound that they defined as "minimalist", in which syncopated percussions, powerful bass lines and vaporous arrangements wrapped us up in a deep journey.
Now, with their first project for Beautiful Accident – this 4 track EP titled Gorilla -, the beats continue to be the brand of the house, and love, love abounds. But there are also many studio hours composing, and a constant desire to play with a renovated analogic hardware arsenal that the Sevillian duo has in their home studio, which translates into their best work to date, without a doubt.
The push of this Gorilla EP is like a train that sweeps through, with intricate and labyrinthine beat structures, with well-worked voices that evoke emotional landscapes and synths with a clear disposition to look for complicity from the most demanding dance floors.
It is precisely Gorilla -the EP's title track- the one that opens the EP and presents itself as an instrumental prelude with a passionate and vigorous beginning which then gives way to a space for dancing, and becomes more relaxed towards the end, once we pass the sustained strings, which provide the necessary sound tension to ignite the journey.
That ignition continues with Train, which progressively pushes through as if it was shooting us for the moon, with a conjunction of voices and truly evolved bass, a straight ascending line that we wish would never end.
Forest places us in the backwater of love, two voices in unison, dreamy choirs, slow-motion visions that accelerate towards the end, preparing the landing strip naturally, and then fly…
In BeatLove's own words, the closing track of this genius EP, Connection Bridges, is the conclusion that summarizes "the ending that beats the hardest in our hearts", a declaration of intentions in which we appreciate the coming together of all the synthetic bridges, a point of energetic encounter where we fusion ourselves with love and rhythm, the only and true Leit Motiv that Benjamin and Myriam gift us in their brilliant work.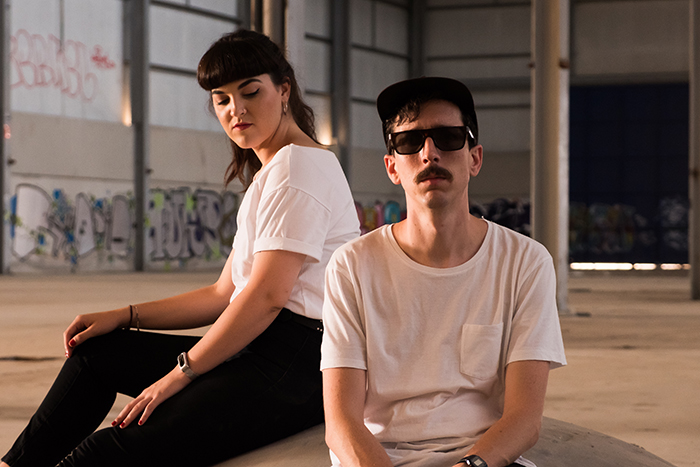 ES
BeatLove ​es un dúo de música electrónica de Sevilla, formado por Benjamín Jiménez y Myriam Fernández, y su nombre como indica y tal como ellos mismos definen proviene de una explosión de amor y ritmo, conformando una música personal y con carácter, que sumerge al oyente en un profundo viaje de melodías íntimas, texturas envolventes y voces emocionantes.
En su anterior trabajo (​'Save' – Solid Tapes), presentaron un sonido que definieron como 'minimalista', en donde percusiones síncopas, potentes líneas de bajo y arreglos vaporosos nos envolvían en un profundo viaje.
Ahora, en su primer proyecto para ​Beautiful Accident – este EP de cuatro cortes denominado ​Gorilla ​-, los beats siguen siendo marca de la casa, y amor, hay muchísimo.  Pero también hay muchas horas de estudio y composición, hay un deseo constante de jugar con un renovado arsenal de hardware analógico que el dúo sevillano posee en su home estudio, y que plasman sin duda en este, su mejor trabajo hasta la fecha.
El empuje de este ​Gorilla EP es como un tren que arrasa a su paso, con intrincadas y laberínticas estructuras de beats, con unas voces muy trabajadas que recrean paisajes emotivos, y synths con una clara orientación a buscar la complicidad de los dancefloors más exigentes.
Precisamente es ​Gorilla -el track que da nombre a todo el trabajo- el tema que inicia el EP, y se presenta como un preludio instrumental con un comienzo apasionado y pujante que deviene en un espacio para el baile, ya más relajado hacia el final, una vez pasadas las cuerdas sostenidas que le aportan la necesaria tensión sonora para arrancar el viaje.
Ese impulso continúa con ​Train​, que progresivamente empuja como si nos fuera a llevar hacia la Luna, con una conjunción de voces y graves de verdadera evolución, una línea recta ascendente que no deseamos que se acabe. Forest ​nos sitúa en el remanso del amor, dos voces en unísono, coros ensoñadores, visiones en cámara lenta y todo se acelera hacia el final, preparando la pista de despegue de manera natural, y a planear…
En palabras de los propios ​BeatLove​, el track que cierra este genial EP, ​Connection Bridges​, es la conclusión que resume ​'el final más latente en nuestros corazones' ​ , una declaración de intenciones en donde apreciamos el confluir de todos los puentes sintéticos, un punto de encuentro energético donde fundirse en el amor y el ritmo que no es otra cosa que el único y verdadero Leit Motiv que Benjamín y Myriam nos regalan en este brillante trabajo.


MONDOSONORO (EU-ES)
SINGLE/VIDEO 'TRAIN'  [ link ]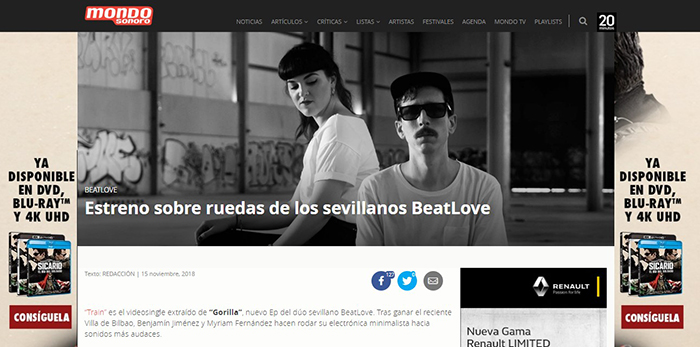 BEATBURGUER (WW-ES) 
SINGLE 'GORILLA'  [ link ]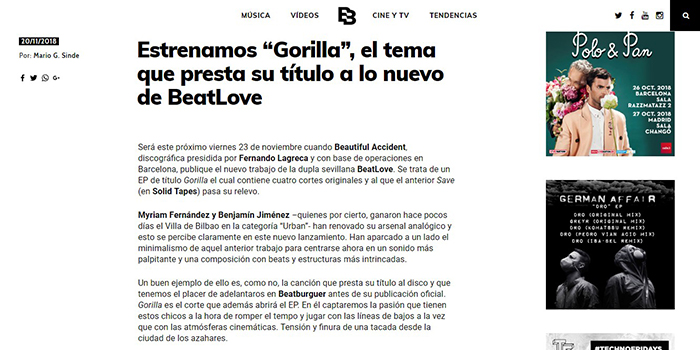 WARP LA (LATAM-MX) 
EP 'GORILLA'  [ link ]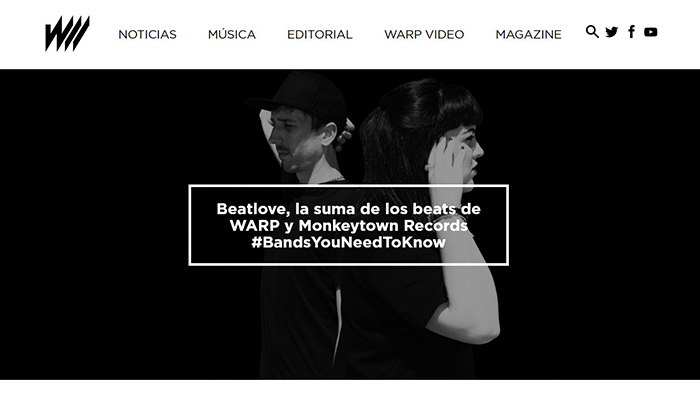 OK DIARIO (EU-ES)
EP 'GORILLA'  [ link ]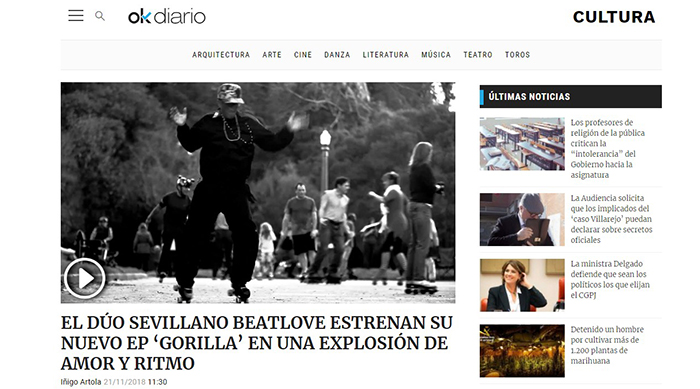 ULTRAMARINOS  (LATAM- MX/COL)
SINGLE / VIDEO 'TRAIN'  [ link ]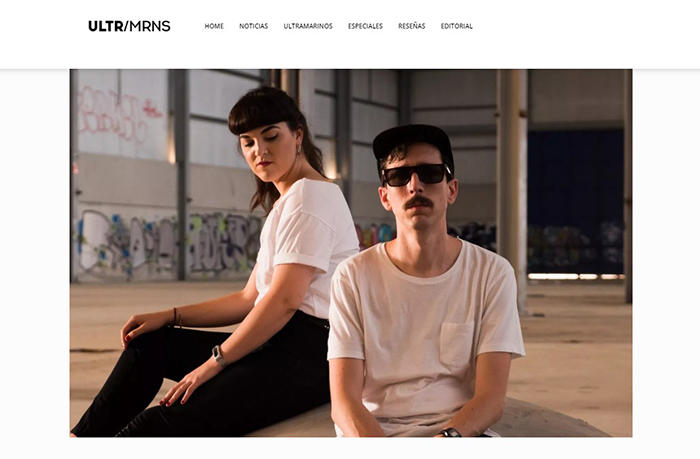 POPMATTERS  (UK / US)
SINGLE / VIDEO 'TRAIN'  [ link ]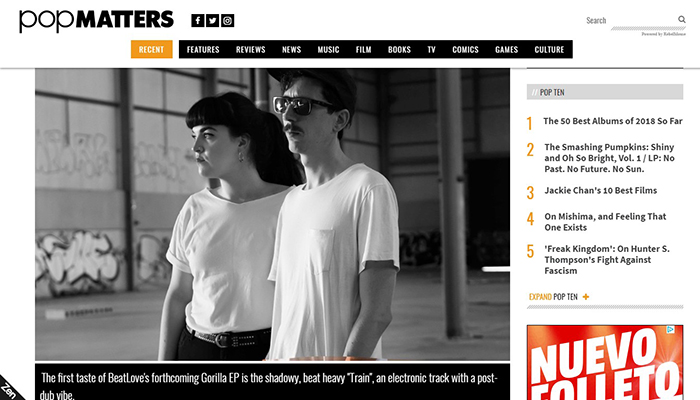 INDIEPOPROCK  (FRA/ BEL)
SINGLE / VIDEO 'TRAIN'  [ link ]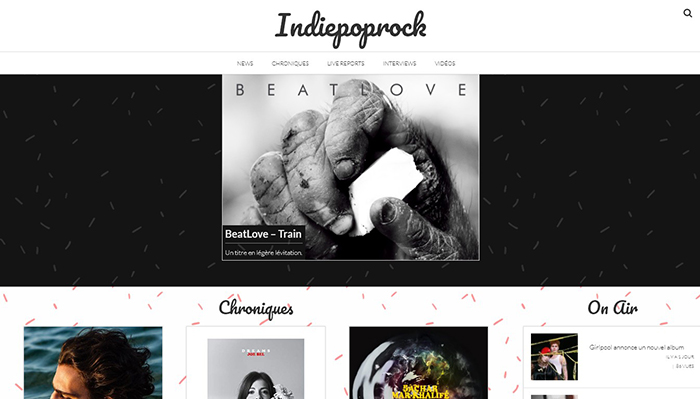 AVAZ AVAZ  (TUR) 
SINGLE / VIDEO 'TRAIN'  [ link ]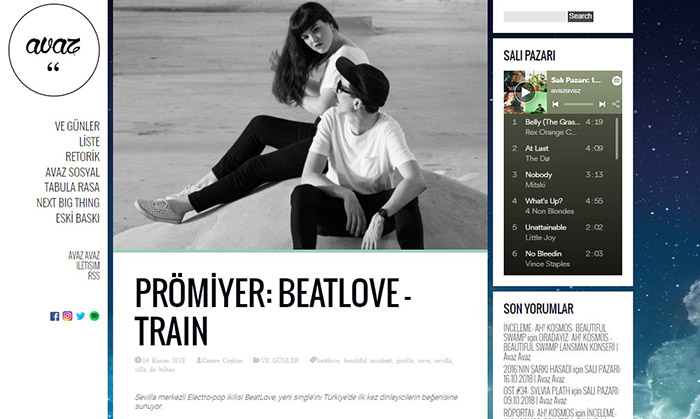 INSTAGRAM (BeatLove)
FACEBOOK (BeatLove)
SOUNDCLOUD (BeatLove)

PRENSA / PRESS
bruno@freelastica.com
Beaitiful Accident – Label & Booking
fernando@miraclemgmt.com