15 Golden Years of Moonbootique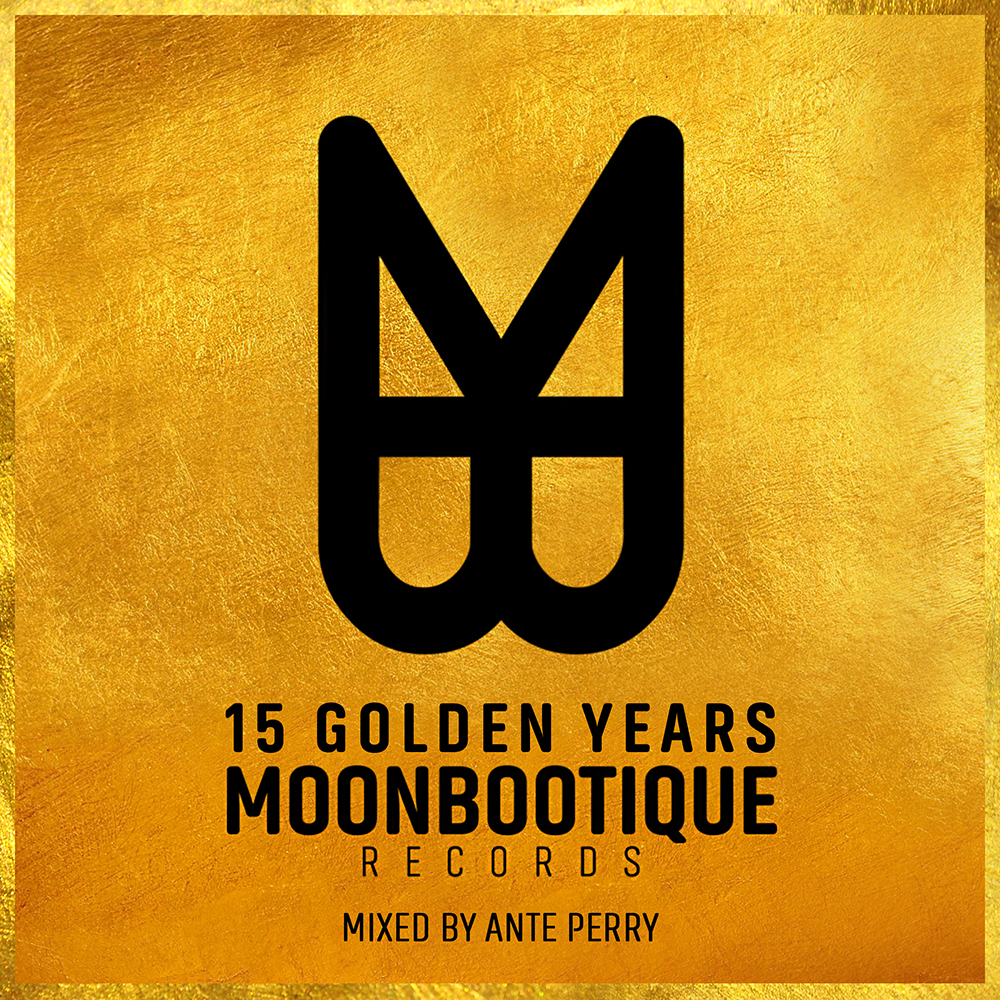 Artist: Various Artists
Title: 15 Golden Years Of Moonbootique
Label: Moonbootique Records
Cat: mooncd06
Releasedate: 30.09.2016
Minimix Part 1*Stay tuned for Part 2: Minimix of CD2 coming soon..

Time is running. Nothing reveals that ugly truth better than upcoming anniversaries. It still feels like just a couple of years ago, that we started this label, but surely we all know how much we can trust these kinds of feelings. No friends, it's been 15 years, a whole lotta more than an average marriage these days.
Well, we can't change that, so just put the shock aside and do what we are doing right now: Turn on your stereo, get into the sound and celebrate 15 Golden Years of Moonbootique Rec. releases with us. We asked label artist and long time companion Ante Perry to create two mixes for us: One from the vault of time and one with recent releases. This compilation is the outcome and we are more than happy with it!
On CD1, Ante Perry takes us way back into the past to the beginning of his own artist career with tracks like "Beachpower" or "Human You", but also the great works of artists as Stereofunk (nowadays better known as PurpleDiscoMachine), Bodymovin or Moston & Malente (running their own label NoBrainer besides releasing on various labels like Katermukke, and others). Of course we also find some classic MOONBOOTICA material here and even a rare KoweSix remix. We must truly say, we almost forgot some of these cuts and were flushed with warm feelings and memories of a time, when electro was on the rise and things seemed to be less complicated then today.
CD2 deals with brandnew (Ante Perry's exclusive track "The Axis Of Awesome"), new (2015 – 2016) and recent (2014) releases.
After focusing on MOONBOOTICA for a couple of years, we decided to concentrate on the label again sometime around 2014. Finding fresh artists and giving the label a new face was something very personal for us and with the likes of Curry & Krawall, FromDropTillDawn, Valentina Black & Less Hate, Julian Wassermann or Township Rebellion, we sure have gathered some truly gifted and inspiring artists. Ante Perry himself will put out a new EP on our fine label simultaneously to this Mix Compilation and this will just be the start off for the next 15 Golden Years of Moonbootique Records!
The journey has just begun…
TRACKLIST
CD1
1. Bodymovin – B.O.D.Y.M.O.V.I.N (Original)
2. Stereofunk – East Clintwood (Original)
3. Incage – Endless (Kowesix Remix)
4. The Coconut Wireless – Get The Fuck Up (The Havana Boys Remix)
5. Asci Disco – Hey (2007 Remake) 6. Ante Perry – Beach Power (Original)
7. Moonbootica – My Hot Dope (Purple Disco Maschine Remix)
8. Moston & Malente – In The Sky (Original)
9. Moonbootica feat. Jan Delay – Der Mond (Original)
10. Moonbootica – DJ Theme (Original)
11. Moonbootica – Bounce With Me (AKA AKA feat. Thalstroem Remix)
12. Ante Perry & Tube & Berger – Human You (Original)
13. Tagteam Terror – Kimble (Original)
14. Moonbootica – Sundown (Original)
CD2
1. FromDropTillDawn – Blacklist (Sasch BBC & Caspar Remix)
2. Julian Wassermann – Funk Funk (Original)
3. Moonbootica – June (Moonbootica Remix)
4. Moonbootica – These Days Are Gone (PWNDTIAC Remix)
5. Moonbootica – Superdrive (Ante Perry & Dirty Doering Remix)
6. Valentina Black & Less Hate – My Detroit Players (Original)
7. Julian Wassermann & HBC – Memory (Original)
8. Curry & Krawall – The Soul Condor (Original)
9. The Synchronizers – Fuck That Shit (VooDooSon Remix)
10. Township Rebellion – Pelikan (Kellerkind Remix)
11. Artenvielfalt – Luv It (Curry & Krawall remix)
12. Moonbootica – Beats & Lines (Pele & Shawnecy Remix)
13. Ante Perry – The Axis Of Awesome (Original) [EXCLUSIVE]