DON'T PANIC! WE'RE FROM POLAND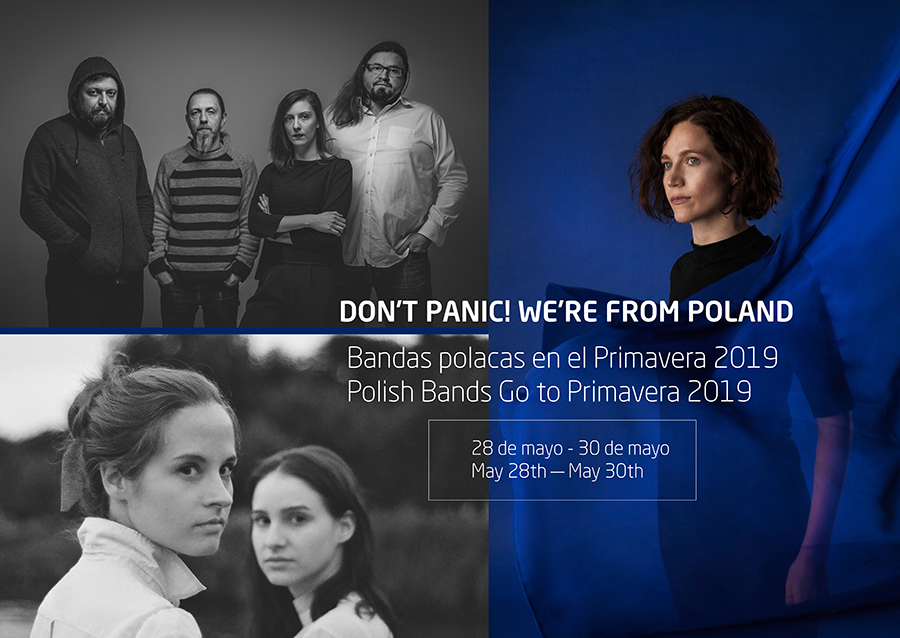 #dontpanic #wearefrompoland #primaverasound #primaverapro #2019
#lonkersee #teskno #wewillfail
#spacerock #ambient #freejazz ##psychedelia #pop #neo #classic #electronica #leftfield #experimental
Primavera Sound 2019
Don't Panic! We're From Poland (DPWFP) 
Lonker See, Tęskno, We Will Fail
DOSSIER DE PRENSA EN ESPAÑOL – clicar aquí .pdf
PRESS DOSSIER IN ENGLISH – click here  .pdf
DOSSIER DE PREMSA EN CATALÀ – fes clic aquí .pdf
Links oficiales | Official links
Primavera Pro   &  Culture.pl

ESP
Gracias a Don´t Panic! We're From Poland, tres grupos/artistas polacos volverán a asomarse por Barcelona para dar lo mejor de sí mismos en una nueva edición del Primavera Sound. Estas son: Lonker See, Tęskno y We Will Fail. Actuarán concretamente en la sala Apolo –dentro del programa de Primavera Pro- y en el Parc del Fòrum.
El programa Don't Panic! We're From Poland (DPWFP), iniciado en 2008 por el Adam Mickiewicz Institute / Culture.pl, que promueve artistas de todo el mundo, es una marca reconocible, sinónimo de música fresca y prometedora procedente de Polonia. El proyecto promueve la música polaca contemporánea en el extranjero a través de la participación de artistas y profesionales de la industria musical polacos en showcases de festivales, conferencias y ferias [ leer más ...]
ENG
Thanks to the Don't Panic! We're from Poland programme; three Polish bands will be heading to Barcelona this year: Lonker See, Tęskno and We Will Fail. They will be playing at the Apolo club within Primavera Pro and at Parc del Fòrum during Primavera Sound.
The Don't Panic! We're From Poland (DPWFP) programme, initiated in 2008 by the Adam Mickiewicz Institute / Culture.pl promotes artists worldwide and is a brand that is widely recognized as a synonym for fresh, promising music from Poland. The programme comprehensively promotes contemporary Polish music abroad, through the participation of Polish artists and music-industry professionals in musical events such as showcase festivals, conferences and trade fairs [ read more ... ] 

___________________________________________________________________________________________________
(photo credit: Paweł Jóźwiak)
#spacerock #ambient #freejazz #psicodelia
"Libertad de expresión" |  "Freedom of Speech"
ESP
Descifrar la música de esta banda de nombre Lonker See es como aventurarse en un complejo laberinto en medio de la selva. El último álbum publicado, "One Eye Sees Red" (Instant Classic, 2018), desprende desde sonidos ambient, a jazz, rock espacial e incluso psicodelia instrumental. El LP está compuesto por tres piezas aparentemente parsimoniosas, que van sumando capas hasta arrojar al oyente por una espiral ascendente.
Verlos tocar es todo un caldo de sensaciones. Suelen arrancar como decía blandos, apacibles para luego irnos metiendo por caminos escarpados. Un cosmos que como advertía bebe de aguas como las atmosféricas. No en vano el cuarteto fue parido en un principio por solo dos de ellos (Joanna Kucharska y Bartosz Boro Borowski) haciendo precisamente eso. Solo eso. Para sibaritas y amantes de los conciertos sorpresivos y llenos de improvisación, estos chicos son de lo más recomendable.
ENG
Lonker See started as a project of Polish ambient duo Joanna Kucharska and Bartosz 'Boro' Borowski. After their first EP they invited TriCity jazz musicians Tomasz Gadecki and Michal Gos, and changed the music formula, exploring a wider spectrum.
In their music you can hear (free) jazz, space and psychedelic rock. It's based on long forms, leaving room for improvisation. At first, apparently minimalist tracks, which progressively increase in depth drawing the listener into an ascending spiral.
Their latest album "One Eye Sees Red" starts with an 18-minute trip and was released April 2018 on the Instant Classic label.
"One Eye Sees Red" LP - Spotify link  
facebook.com/LonkerSee
lonkersee.bandcamp.com
(photo credit: Karolina Konieczna)
#pop #neo #classic
"Pop de cámara" | "Chamber Pop"
ESP
Un placer también presentar a este dúo que nació entre el verdor del jardín botánico de Varsovia. El bautizado como Tęskno –que significa 'anhelo' en polaco- compuesto por la cantante y violinista Joanna Longic y la pianista Hania Rani, el cual, musicalmente hablando es pura bondad. Combinan en sus canciones de una manera muy gustosa pop bucólico y música neoclásica. Música que a su vez casa perfectamente con imágenes de belleza neoclásica. Suelen interpretar sus temas en polaco, se dieron a conocer con el álbum "Mi" y desde entonces, fichadas por la todopoderosa [PIAS].
Las letras tan poéticas que escriben junto a la nostalgia, belleza y sensibilidad las hacen ser un dúo al que localizar desde ya en el radar y luego no perder de vista. Intelecto y emoción pura.
ENG
Tęskno is collaboration between singer Joanna Longić and composer Hani Rani, which was established in May 2017. The symbiosis and the project was born in fact in the botanical gardens of Warsaw.
Together they created of a collection of songs in Polish and music, which tries to escape general genres and styles, combining acoustic (piano, string quintet) and modern sounds. In such an idyllic setting… The duo's sound is chamber pop with a graceful silhouette, which proudly drifts through a melancholic mist (it is no coincidence that the name of the band means "longing" in Polish) and finds the perfect balance between intellect and pure emotion.
The last album of the duo is titled "Mi"; they released it via [PIAS Recordings] including beautiful and delicate songs like "Mapa", "Łeb", "Wymówka" or "Razem" (featuring Polish electronic producer Pawel Krygier aka Duit).
"Mi" LP  -  smarturl.it/Teskno-Mi
facebook.com/teskno/
instagram.com/tesknomi/
(photo credit: Olga Ozieranska)
#electronica #leftfield #experimental #techno
"Misterios de la electrónica" | "Rather Than Dancing"
ESP
We Will Fail es el imaginario en solitario de Aleksandra Grunholz. Una artista fría y de rostro hierático que debutó en 2014 con el disco "Verstörung" (Monotype Rec.) el cual no tardó en colmarse de estupendas críticas. Se trata de una creadora muy particular que se enfrenta a sus propios demonios a través de sonidos electrónicos. Insólitos, oscuros y perturbadores.
Su trabajo se cimenta en la modernidad, la exploración y las sombras de lo sintético. Aporta una visión distinta ante los típicos sonidos de club. Ya tiene publicados tres álbumes –el último "Dancing" (en 2018 y por Refined Productions, su propia discográfica junto a Jakub Mikołajczyk)- ah, y es además diseñadora gráfica.
Ahora la tendremos por fin en Barcelona. Antes ya la han disfrutado en directo en eventos tan importantes como el CTM, TodaysArt o el Unsound (tanto en Cracovia como en Toronto).


ENG
We Will Fail was created by composer and graphic designer Aleksandra Grünholz. Her debut album "Verstörung" was released in February 2014. We Will Fail builds her pieces on repetitive samples and field recordings. Combined with synthesizers, Aleksandra makes dark and disturbing music – from ambient to powerful techno, sometimes with a melody full of dissonance, sometimes in an industrial context.
In an interview with Inverted Audio she attested: "…the scene lately is more privy to trends, and you can try and mimic them, but trends tend to fade fast […] I don't need to follow expectations or trends to construct the best art I can make."
We Will Fail sound has enveloped festivals such as TodaysArt, CTM and Unsound (Krakow and Toronto). Her latest album 'Dancing' is an inventive representation of her feelings towards dance music and her sonic resolutions towards what she's inferred from it.
"Dancing" LP – Spotify link 
+
instagram.com/wewillfail
soundcloud.com/wewillfail
facebook.com/wewillfail

PRENSA / PRESS
bruno@freelastica.com
DON'T PANIC! WE'RE FROM POLAND / Adam Mickiewicz Institute
bfeliga@iam.pl
facebook.com/dontpanicwerefrompoland
instagram.com/dontpanicwerefrompoland